They say when life gives you lemons, make a lemonade. But, it's hard to feel motivated and inspired when life is constantly trying to knock you down. These inspirational quotes about life and struggles can motivate you to move forward.
Short Inspirational Quotes About Life and Struggles
Sometimes a quick and short quote about life and struggles is all we need to see the positive in our situation.
1. "Hard times always lead to something great." – Betsey Johnson
2. "Problems are not stop signs; they are guidelines." – Robert Schuller
3. "The triumph can't be had without the struggle." – Wilma Rudolph
4. "Life's struggles are necessary for growth." – Auliq Ice
5. "In the middle of every difficulty lies opportunity." – Albert Einstein
6. "New beginnings are often disguised as painful endings." – Lao Tzu
7. "Let perseverance be your engine and hope your fuel." – H. Jackson Brown, Jr.
8. "The greater the obstacle, the more glory in overcoming it." – Molière
9. "Difficult roads always lead to beautiful destinations." – Zig Ziglar
Real Life Struggle Life Quotes
We all go through hard times, but how we move through and past them is what defines our future. Plus, words of wisdom can help guide and direct our thoughts and actions as we persevere through those challenges we face.
10. "Life is like riding a bicycle. To keep your balance, you must keep moving." – Albert Einstein

11. "Sometimes we can feel like we are not good enough, but it is important to remember that we have nothing to prove to others. Love and respect yourself each and every day." – Lisa Lieberman-Wang

12. "We all make mistakes, have struggles, and even regret things in our past. But you are not your mistakes, you are not your struggles, and you are here now with the power to shape your day and your future." – Steve Maraboli
13. "You're imperfect, and you're wired for struggle, but you are worthy of love and belonging." – Brene Brown
14. "It's funny how, when things seem the darkest, moments of beauty present themselves in the most unexpected places." – Karen Marie Moning
15. "Success is not final; failure is not fatal: it is the courage to continue that counts." – Winston Churchill
16. "Seeds of faith are always within us; sometimes it takes a crisis to nourish and encourage their growth." – Susan Taylor

17. "Even in the most difficult of times, there is always a hidden blessing that exists under all the superficial stuff that we so frequently see. There is always a rainbow waiting to burst forth after the rain." – Daniella Whyte

18. "Life has a way of broadsiding us with lessons that we need to learn but would rather avoid." – Craig Groeschel
19. "The struggle you're in today is developing the strength you need for tomorrow. Don't give up." – Robert Tew

20. "If you don't like something change it; if you can't change it, change the way you think about it." – Mary Engelbreit
Powerful and Motivating Life Struggle Quotes
There are times when we desperately need inspirational quotes about life and struggles to move forward. We also need to feel a connection to those who have gone before us and succeeded through their own difficult times.
21. "Those who overcome great challenges will be changed, and often in unexpected ways. For our struggles enter our lives as unwelcome guests, but they bring valuable gifts. And once the pain subsides, the gifts remain. These gifts are life's true treasures, bought at a great price, but cannot be acquired in any other way." – Steve Goodier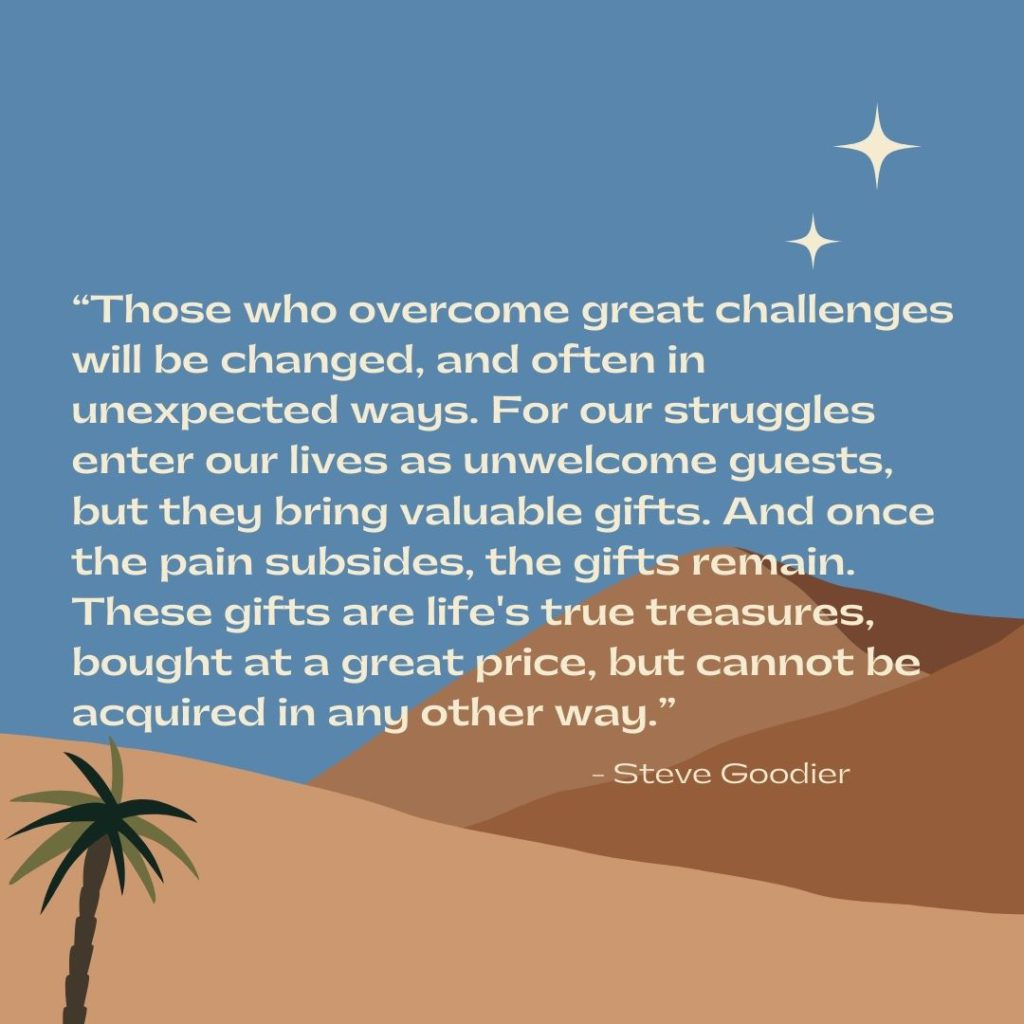 22. "The ultimate measure of a man is not where he stands in moments of comfort and convenience, but where he stands at times of challenge and controversy." – Martin Luther King, Jr.

23. "Press on – nothing can take the place of persistence. Talent will not; nothing is more common than unsuccessful men with talent. Genius will not; unrewarded genius is almost a proverb. Education will not; the world is full of educated derelicts. Perseverance and determination alone are omnipotent." – Calvin Coolidge

24. "Whenever you feel life is challenging or things are just not working out, review and assess your most important values. "This will help reinforce the confidence and clarity you need to improve your current situation." – Brandon Stanberg

25. "Life's battles don't always go to the stronger or faster man. But sooner or later the man who wins is the man who thinks he can." – Bruce Lee
Even though everyone's life experiences are different, we all share the common feelings of struggling through challenges we face in our lives. Acknowledging this shared wisdom can imprint positive thinking on our psyche and motivate and encourage us to move past those inevitable tough times in our lives.
More From Dad Answers All
Feature Photo Source: Shutterstock